"Back to my Roots: Adventures in Book-binding" with Dina Wakley
June 8, 2018 @ 9:00 am

-

4:00 pm

$135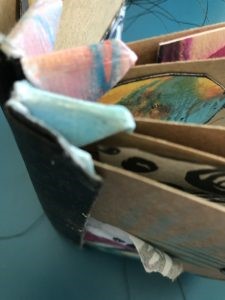 Runaway is so pleased Dina will be returning June 8-9. For anyone who doesn't know her already, Dina – in addition to being a Ranger® signature designer – is a nationally known mixed-media artist and teacher. Whatever she teaches, her love of art and of helping people find their own artistic center shines through.
I love everything about art: creating it, thinking about it, looking at it, and teaching it….I have been scrapbooking since 1995, stamping since 1996, and art journaling since 2004. I have kept a personal journal since I was nine years old. I believe in writing yourself down, expressing yourself, and making your mark on the world.
– Dina Wakley
Dina will be here for two days and will be teaching three different classes, which are described below — we are very excited that she is bring her book-binding experiences to share with us in the Friday class.
When I started art journaling, there were very few pre-made journals to be found. So, we made our own! We made little and big books and enjoyed filling them with art….
We'll use Media Board, watercolor paper, Kraft paper, and more. We'll fold, paste, and sew our way into book heaven. We'll be throwing some painty mixed-media fun into the books, too.
Students will need to bring the following:
Basic tool kit: Ranger® craft sheet, scissors, water container to clean your brushes, baby wipes, paper towels, paper plate or palette paper to use as a palette (or you can just use your craft sheet). You may also want a small notebook and a pen for taking notes.
Your art journal.
Bone folder
Ruler and pencil
With a full-day class, we will of course be taking a break for lunch, either in the store or outside.
A special note from Runaway about the "official" stuff:
This is a new class that Dina hasn't taught before at Runaway, so we know there will be plenty of interest as June approaches — as of April 15 there is still room in the class. Sign up by contacting Runaway at (503)881-6270 or via e-mail at christy@runawayart.com. In order to hold your place in class, we will need your payment when you sign up (payment includes a $25 non-refundable fee).
We will be able to refund the balance of your payment (excluding the $25 fee) for cancellations that occur before the end of the day on May 31.