Dina Wakley's "Beeswax Collage"
February 23, 2019 @ 10:00 am

-

1:00 pm

$75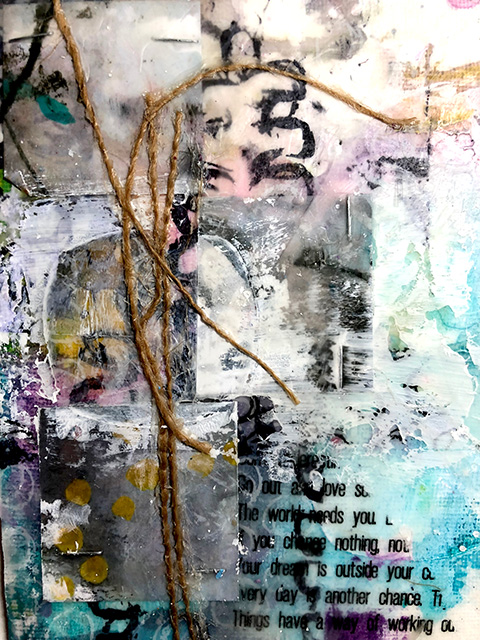 Runaway is very excited to be the first store where Dina Wakley teaches in 2019 using her new products, which will be coming out in the middle of January!
Dina will be at Runaway on Thursday, Feb. 21, Friday, Feb. 22 and Saturday, Feb. 23, 2019. We've worked with Dina to choose 4 wonderful classes for you to choose from. And if you take all of the classes, Christy will have a goodie bag for you to take home on the first day of class.
The 3rd of Dina's offerings is her "Beeswax Collage" class, which will be the first of two Saturday classes.
Dina tells us, "
By special request, here's a reprise of beeswax collage. This process is experimental, fun, and creates such interesting transparent layers that pictures don't even begin to do them justice. We'll play with Media Board, pure beeswax, and collage papers and tissues. We'll add acrylic paint in between layers for interesting effects, and will even scratch into the wax to make marks. You'll be hooked!"
Save your spot in class by sending an e-mail to Christy@Runawayart.com, calling us at 503-881-6270 or coming by the store. We do require prepayments for Dina's classes. You can come by the store or mail a check to:
Runaway Art & Craft Studio
311 Commercial St NE
Salem, OR 97301
Supply list for Dina's February 2019 classes.
Basic tool kit: Ranger craft sheet, scissors, baby wipes, paper towels, paper plate or palette paper to use as a palette (or you can just use your craft sheet).
You may also want a small notebook and a pen for taking notes.
Your art journal.