"Playful Printmaking" with Dina Wakley (Art Journal Play series)
June 9, 2018 @ 1:00 pm

-

4:00 pm

$75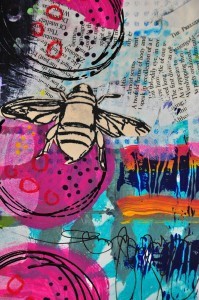 Runaway is so pleased Dina will be returning June 8-9. For anyone who doesn't know her already, Dina – in addition to being a Ranger® signature designer – is a nationally known mixed-media artist and teacher. Whatever she teaches, her love of art and of helping people find their own artistic center shines through.
I love everything about art: creating it, thinking about it, looking at it, and teaching it….I have been scrapbooking since 1995, stamping since 1996, and art journaling since 2004. I have kept a personal journal since I was nine years old. I believe in writing yourself down, expressing yourself, and making your mark on the world.
– Dina Wakley
Dina will be here for two days and will be teaching three different classes, including this addition to her "Art Journal Play" series, as described below:
My "Art Journal Play" classes are all about exploring and playing with art journaling and mixed-media techniques. The goal is to learn techniques, experiment, play, and make finished journal pages. We'll be working in journals, but the techniques apply to all mixed-media projects (canvases, book-making, etc.).
This class is a blast as we explore many ways to incorporate printmaking into your mixed-media projects.
A word from Runaway about the "official" stuff:
This is a new class that Dina hasn't taught at Runaway before, and we already know there is plenty of interest — but we're hoping to "stretch" our classroom space a bit to accommodate at least some of the folks on the waiting list. Sign up by contacting Runaway at (503)881-6270 or via e-mail at christy@runawayart.com. In order to hold your place in class, we will need your payment when you sign up (payment includes a $25 non-refundable fee). But we won't ask you to pay anything until we have a space for you, so you can get a spot on the waiting list for free.
We will be able to refund the balance of your payment (excluding the $25 fee) for cancellations that occur before the end of the day on May 31.