Sure, the holidays are cool and all. But that's not the only thing that has us excited here at Runaway. We are very pleased to be the first store to host Artist and Designer (and one of our absolute favorite teachers!) Dina Wakley as she returns to travel and teaching. For those of you who were all set to attend her 2020 class, this feels like a sign that the pandemic is really coming to an end. And we know many others have been anxiously awaiting Dina's next visit as well.
She will be teaching one class each day from 10 am to 5 pm, with a break for lunch, at a cost of $170 per day. And every one of them offers a wonderful opportunity get in touch with your own artistic muse. Interested in attending one or more them? Just send an e-mail to Christy@RunawayArt.com, give us a call at (503) 881-6270, or come by the store during regular business hours.  We'll get you signed up (please don't try to sign up in Facebook comments or using Messenger – we just aren't set up to manage things that way). 
Reserve your spot as quickly as possible! We'll need full payment (which includes a $25 non-refundable fee for each class) to hold your spot. If you cancel, we will refund your money (except the $25 fee) IF we can fill the seat. So the sooner you let us know the better.
Unless additional supplies are listed in the class description, everything is included except the basic kit (which you'll need to bring with you to class):
Scissors
Craft Sheet
Paper Towels or Wipes
If you have paint pens for journaling, those would be helpful as well, but they are not required.
All photos are representations of the class concepts; the actual art you create will vary.
Gloss Spray Glory
Thursday, February 2, 2023 ($170)
What can you do with Gloss Sprays? The answer is YES! Backgrounds, drawing, watercolor effects, resists, the list goes on and on. Join Dina as we explore my favorite ways to use the glosses….you will be amazed at their versatility. They are SO much more than a spray, they are a fluid paint with which you can create stunning effects.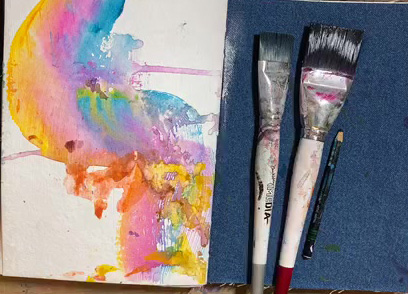 Ethereal Figures on Printed Backgrounds
Friday, February 3, 2023 ($170)
In this class we'll create unique printed backgrounds, using your gel plate as a painting tool. Then, we'll create abstract figures on the backgrounds with several different methods—painting, reduction, printing, and more.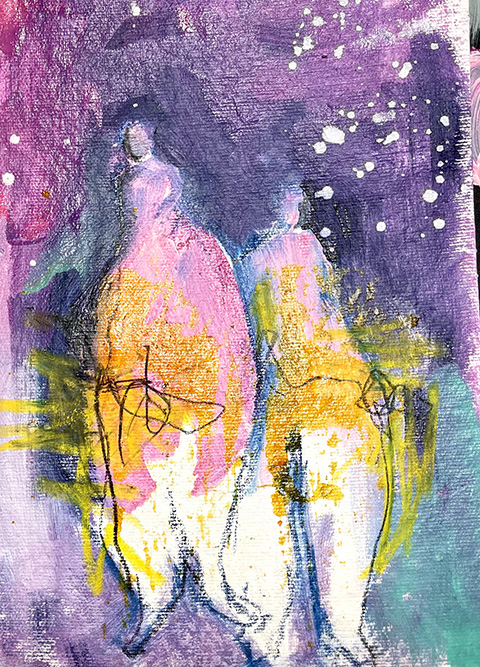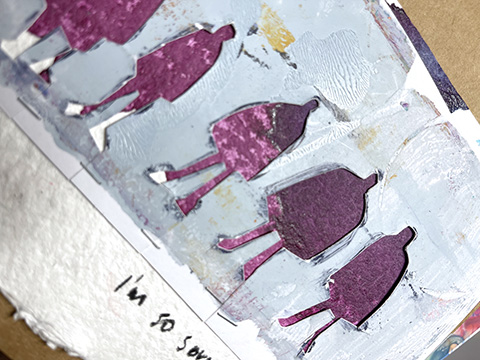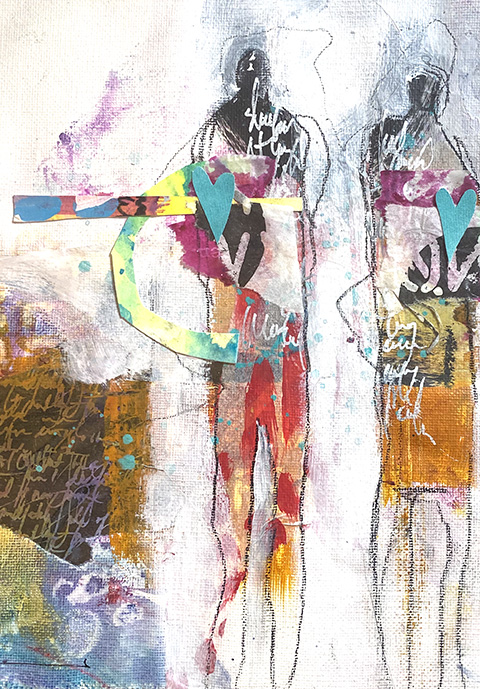 Clearly Interesting Mini-Book
Saturday, February 4, 2023 ($170)
Let's a make a book that is chock full of interesting "clear" elements–transparencies! Dina will show you some of her favorite ways to create with transparencies, and we will turn our efforts into a delicious little handmade book.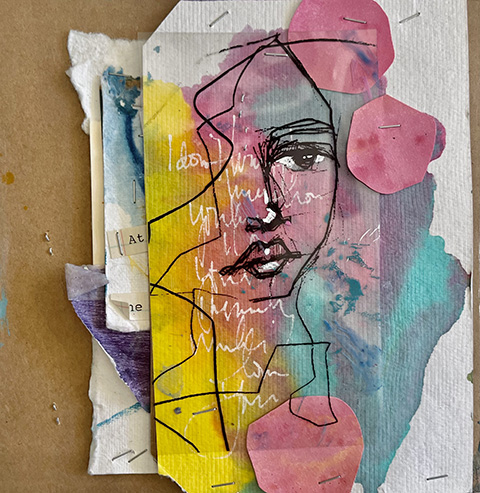 Atlas of You
Sunday, February 5, 2023 ($170)
Dina will give you a rolled piece of canvas, and over the hours of class we are going to build up interesting layers that map out parts of YOU. Symbols, imagery, and journaling will combine to create a mixed-media masterpiece showpiece that is both personal and fun.
Extra supplies to bring: three photocopies of a photo of you (selfie, front view), printed to cover the entire 8.5″x11″ page, a small cutting mat and X-acto-type knife.