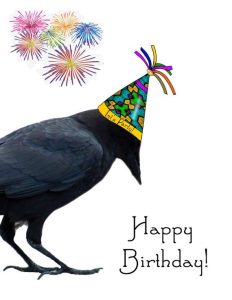 We are so excited to celebrate our 10th birthday in business! And we'd like you to help us celebrate, so we have a month-long sale! From August 10th to September 10th, we are offering a variety of discounts on many of our favorite products.
Anniversary Deals from Aug 11 – Sept 10
Everyone gets class discount – 15% off regular price merchandise (class attendees will get 20% off)!
40% off PanPastels®
20% off graphite and colored Individual Pencils
25% off 12×12 Printed Cardstock
40% off Halloween & Fall Stamps, Dies, and Paper & Buttons*
40% off Christmas & Winter Stamps, Dies, Paper & Buttons*
40% off Highlighters
60% off Art Impressions® Stamps and Dies
Special "Edgar 'Shiny'" prices throughout the store – more added daily!
Friday, August 11 thru Sunday, August 20
20% off Zebra® midliners
30% off foil dies
25% off Ranger® alcohol inks
20% off DAS® oven-bake clay
25% off Karin® Decobrush® Pigment sets
Tuesday, August 22 thru Sunday, August 27
30% off Sign pens
30% off re-inkers
40% off Karin® Decobrush® metallics
Add'l 30% off Studio Floor Easels
30% off foiling plates
Add'l 20% off 18×24 drawing pads
20% off Rembrandt® soft chalk pastels
Tuesday, August 29 thru Sunday, September 3
25% off Penny Black® stamps and dies
30% off moulds
30% off Stazon®, Stazon® Pigment, Delicata®, Ink on 3®, Honey Bee®, Brilliance®, & VersaMagic® ink pads
20% off OLO® markers (sets and individual markers)
25% off stencils
Tuesday, September 5 thru Sunday, September 10
25% off Zip-It® bags and pencil holders
30% off Marabu® crayons
Add'l 20% off black sketchbooks (tablet, hardcover, or spiral)
25% off Silverbrush® sets (including Black Velvet® sets!)
Plus – normal discounts on Golden® products, Daniel Smith® watercolors, BigShots® and Spellbinders® die-cutting and embossing machines, and more!
*Limited Exclusions Apply
Sale prices limited to merchandise in stock; all discounts taken off regular price unless otherwise indicated.
Very limited exclusions on 15% class discount; class attendees during sale will receive 20% discount.
Light-Blue dots: additional discounts (beyond 15%) do not apply