Runaway has all sorts of stamps, dies, stencils and beautiful papers for the holiday season — come check things out if you're looking for a creative boost.
And if you really want to get things started, check out one of our many card-making classes. Dixie McCartney, of course, has been celebrating Christmas with her cardmaking all year, since "It's Always Christmas with Dixie!" (check out her class every month — the November samples are shown below).
Deb Hook joins the fray with "Christmas Cards with Deb — Merry Everything!" on November 11 and November 19, as well as this month's "Deb's Favorites" cardmaking class, which features "Toasty Greetings" and will be offered November 19 and November 30. And we won't be at all surprised if November 30's offering of "Darn Cute Cards with Deb" includes a holiday touch as well! (the first two samples below are from "Merry Everything!" and the third is from "Toasty Greetings."
"Christmas Cardmaking with Teresa" on December 10 has Teresa Case offering her own set of Christmas Cards (using House Mouse and Penny Black stamps) and on December 17 Teresa is back with a "Graphic 45 St. Nicholas Star Book" class (the 2014 Star Book is shown below).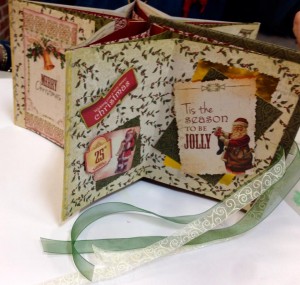 And no doubt we'll be seeing increasing holiday touches in the monthly "Altered Book Journeys" class from Christy Wood.
Come check the store — and our class samples — out! You'll be glad you did.