Mixed media fusion artist John Creighton Petersen of ArtNewWave is coming to Runaway to teach several of his wonderful mixed media classes. Christy had the chance to take a class from John at CHA earlier this year, and she really enjoyed it! She is very pleased that he was able to find time in his busy teaching schedule to come to the store.
He will be teaching three classes at Runaway, which are described below. Contact us at Runaway to get on the list and to guarantee you spot in class with an advance payment (they are likely to fill up fast – so don't delay). You can learn more about John and his artistic approach at http://artnewwave.com/.
Carte Blanc Relic Decor, Saturday, May 21st 10 am to 5 pm (with lunch break)        $80
This technique driven workshop will introduce you to taking mixed media to the next level to create your own custom canvas built in multiple layers with texture, stunning colors and hidden treasures. You will learn how to create custom colors of texture pastes, layering and coloring a variety of embellishments, and making seamless backgrounds that can be used on a variety of different mixed media projects. The focal point of the completed canvas is the smaller 'shrine' in the middle of the canvas which holds your choice of Relic (from the Relics and Artifacts collection designed by Sandra Evertson) that has been hand colored and then sealed with resin.
Smaller Relics will also be colored and added to the canvas, along with smaller unique bezels that will also be set with resin.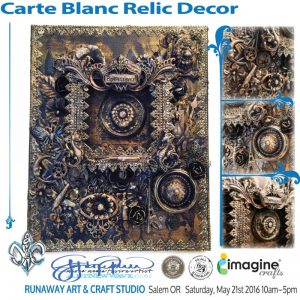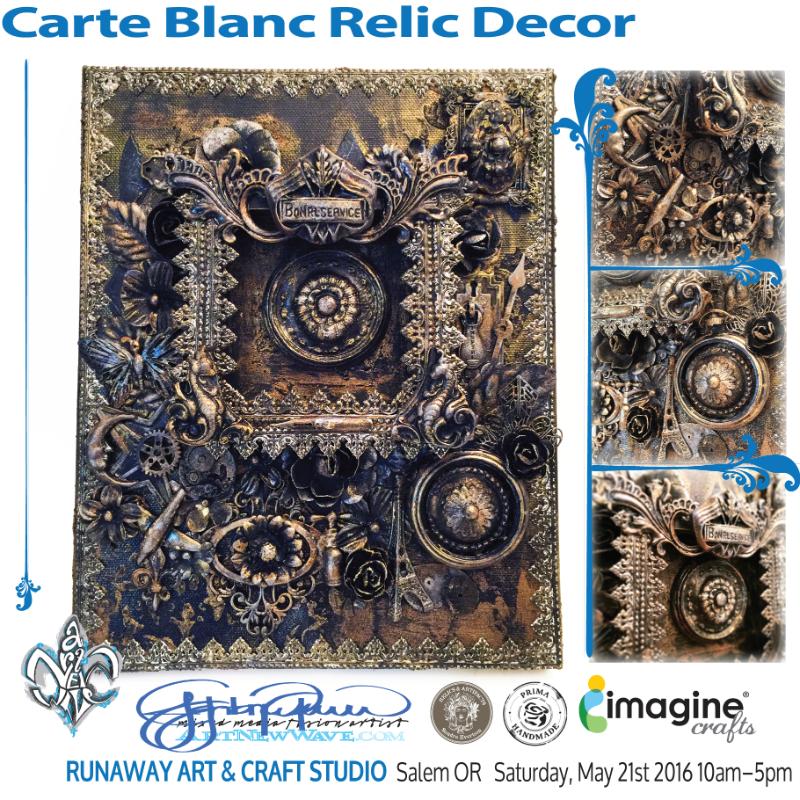 The Explosion Box, Sunday, May 22nd 9 am to 1 pm                                                           $50
John says that this is perhaps his most popular class. Students start with a pre-cut and scored kit so they can spend their exploring textures, coloring, working with metal and other embellishments. This version includes lots of embellishments and colored metal pieces.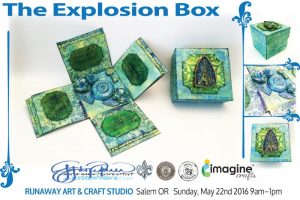 Layered Fiber Journal, Sunday, May 22nd 2 pm to 6 pm                                               $50
Built from scratch, students will explore the basics of book making in this class with an easy to replicate formula for creating any sized book that can be used as a journal, photo album or more. Students will use texture pastes, layer with inks on paper and metal, create embellishments for the book spine, and make a resin bezel for the front cover.